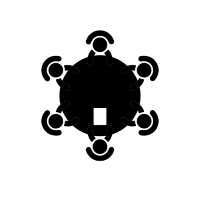 What is a plenary session?
A plenary session is the basic municipal body made up of all the elected councilors and is chaired by the mayor. It is an obligatory municipal body in every town council. The number of members is determined in accordance with the regime established by the Electoral Law. These councilors meet monthly and each municipal group presents a series of motions that are discussed by all. After presenting and discussing each motion, all municipal groups vote on it: they can vote for or against it, and they can also abstain. In addition, before the plenary session begins, it is the turn of the public hearing, where all citizens can go and have their say and make their voices heard directly in front of the highest representatives of the municipality.
 
Benifallet's Plenary Sessions
Currently, according to the Municipal corporation law in Benifallet, the plenary sessions are made up of a total of 7 councilors. 

These councilors were elected in the election celebrated on the 28th may 2019, and will be a part of the council of Benifallet until 2023.