The Generalitat is advancing new measures to reduce social interaction and mobility for 15 days. (October 29)
The Generalitat de Catalunya made an appearance this Wednesday at noon to explain the different measures that have been approved jointly with the technical committee of the PROCICAT. According to the ministers, these are strong measures and the maximum of time and territorial limits throughout Catalonia but which have had to be taken in the face of evidence - also at the international level - that in a context of growth intense and early are the most effective.
As they have explained, the current situation in the territory is serious, as the Rt (rate of infection) is at 1.4 and for next week is expected 40% more positives. In addition, in the last 7 days there has been an increase in hospital care in both conventional and critical beds, primary care is occupying 25% of its time in the management of Covid-19 and has already begun to see the impact on nursing homes and education.
For all this, in addition to targeted screenings and antigen tests that will begin to do, they have decided to take a set of very strict measures in order to go as far as possible and learn from the mistakes of March and thus be able to curb the increase in infections. and to do so in this initial phase of the 2nd wave which is also occurring at the national and European level and which, beyond the epidemiological impact, is also beginning to have an impact on the healthcare field. In this sense, therefore, most measures go in the direction of reducing mobility and social interaction to the maximum.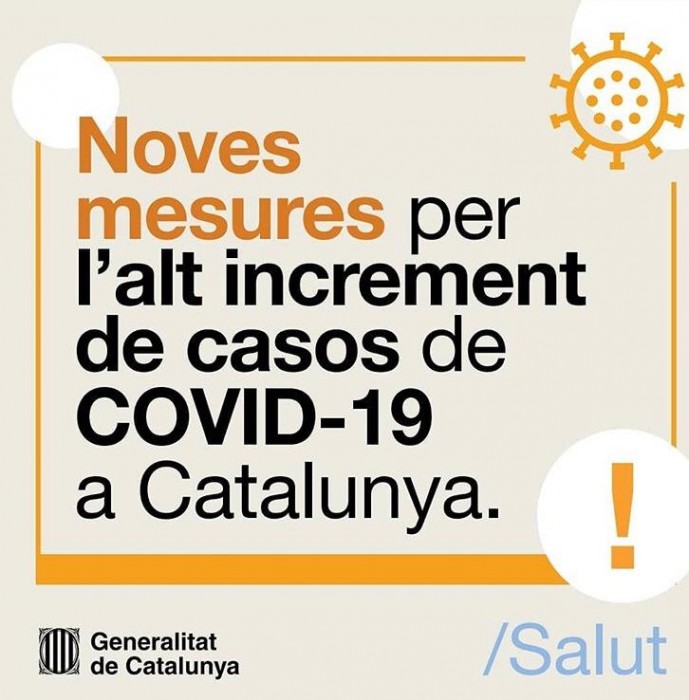 Summary of measures
Territorial resolutions and resolution SLT / 1429/2020 are repealed.
It is recommended that travel away from home and traffic be limited.
Prohibition of family and social gatherings of more than 6 people.
Religious acts and civil ceremonies capacity limitation 50%
Prohibition of use of recreational areas of common use.
Universities all theoretical teaching goes to virtual.
The rest of the activities such as internships, laboratories, workshops ... are maintained.
Congresses, conventions, trade fairs and major festivals suspended.
Non-sedentary markets 30% reduction in capacity and sector compliance.
Companies
Prevention and hygiene measures in the workplace with prioritization of telework measures and staggered entrances. As well as cleaning and ventilation measures. And personal protection measures (more extensive than we had).
The exceptions applied so far follow. (Transposition of the current measure).
Limitation of the activity for those who have close contact except the essential ones (health, dependency ...). The closure of beauty services except hairdressing is explained.
Trade
Reduction to 30% of capacity.
Distance 1.5m between customers if it is not possible 1 single customer within the establishment.
Establishments of more than 400m2 must open with real-time entry control and gauging systems.
Establishment of flows to avoid crossings.
Shopping centers access control and gauging, flow establishment and shops located there 30% maximum gauging.
Use Public Transport
You must maintain 100% supply even if there is a reduction.
Rush hour between 6 and 9am
Hydroalcoholic ice dispensers closed stations.
Hospitality and catering
The activity of bar and restaurant is suspended except for home delivery or collection by appointment.
Services for hotel guests may also be open to hospitals, residences, school canteens and social canteens.
50% capacity common areas in hotels.
Cultural activities, public shows and recreatinal activities 
50% capacity limitation and seat pre-allocation.
Closing time 23h..
Bar and restaurant activities (same limitations as the rest).
Sports and leisure facilities
Prior appointment and 30% capacity and access control 
Postponement 15 days non-professional competitions.
Closure of open sports courts without capacity control capacity.
Suspended opening of parks and amusement fairs.
Suspended opening detachable recreational structures.
Playgrounds can be left open until 20:00.
Suspension opening gambling halls, casinos and bingo halls.
Educational and extracurricular leisure activities are maintained in accordance with the decontamination plan.
The period of application of these measures will be 15 days. Tomorrow the TSJC (Superior Court of Justice of Catalonia) will have to ratify them and they will enter into force from the date of publication in the DOGC, which is estimated to be from Friday at midnight. The Generalitat has established a sanctioning regime for non-compliance with the measures and it will be necessary to establish coordination systems between the Mossos and Local Police to carry out both quantitative and qualitative monitoring and strengthen all control elements.
Finally, the Generalitat is working to establish a package of aid measures that will be aimed mainly at those sectors most affected, hospitality and catering.